Detroit PAL is one of the charities benefiting from the Art Van Million Dollar Charity Challenge! Please follow the link below to vote for Detroit PAL! The charity with the most votes will receive a $25,000 grant.


Please CLICK HERE to vote!
Detroit PAL Youth of the Year
Detroit PAL is proud of the thousands of youth we serve each year through our athletic and leadership programs. To demonstrate our support of young people throughout Metro Detroit, we have created a Detroit PAL Youth of the Year program to showcase one of our outstanding youth who has participated in our athletic programs for three or more years.The Detroit PAL Youth of the Year will attend Detroit PAL events throughout the 2013-2014 school year starting in August as a representative of the young people involved in Detroit PAL programs and will receive a scholarship for post High School education. In addition, the Detroit PAL Youth of the Year will be highlighted on our website and in our monthly newsletter. This opportunity will allow our Youth of the Year to enhance their public speaking skills while discussing their experiences in our programs and expose them to new and exciting opportunities and supporters of Detroit PAL!
To apply for Youth of the Year please download the links on the right panel. You can mail the application to our office or turn it in by hand by 5pm on June 14th.
Detroit PAL Alumni Table Tennis Mixer
Calling all Detroit PAL Alumni and Friends! Drive Table Tennis Social Club is hosting our next Alumni Mixer on Thursday May 30th from 6-8pm. If you and a friend want to come mingle, and play some ping pong, with your former teammates, coaches and Detroit PAL staff RSVP your spot today! We will also provide a "Tasting of Detroit" food and beverage sampling from various local Detroit restaurants. Tickets are only $10 and you can purchase them by visiting our office, or by PayPal and just click the "Buy Now" button below!
For more information please CLICK HERE
Becoming a member of our alumni association is a fun way to show your support for Detroit PAL and stay connected with former teammates, coaches and volunteers. Membership keeps you informed on the latest Detroit PAL news and events, as well as gives you a forum to help improve the organization.
Best of all, you'll be helping to ensure the continued success of Detroit PAL -- making it possible for more youth to participate in the same programs you loved as a kid.
Sign Up Today!
Mobile: Text PALALUMNI to 22828
Email: kbanks@detroitpal.org
Phone: 313.833.1600 (x217) or 313.444.2718
Spring Soccer Opening Day
Historic Fort Wayne hosted another successful Spring Soccer Opening Day for Detroit PAL. On Saturday April, 27th nearly 800 young girls and boys were able to play more than 50 soccer games throughout the day! In addition to the games, thanks to Chevrolet, 1000 indestructible soccer balls, created by One World Futbol Project, were distributed to each kid, bringing the "power of play" to children in Detroit with the help of Big Brothers Big Sisters.
Chevrolet teamed up with Big Brothers Big Sisters of Metropolitan Detroit to donate balls to Detroit PAL and 23 Detroit Public Schools. One World Futbols are designed to outlast and outplay hundreds of regular soccer balls, sustaining play in any environment. The ball doesn't needs a pump and never deflates even when punctured, making it ideal for play in all types of terrain such as concrete, blacktop, dirt, rocky fields or grass and harsh environments. "The indestructible ball is an awesome gift to each of our kids who are so passionate about soccer," said Tim Richey, Detroit PAL CEO. "Thanks to Chevrolet and Big Brothers Big Sisters, our soccer participants are able to take home this unique experience."
For more information on our soccer program please CLICK HERE
The PAL 2013 Volleyball Season Concludes with the Championships and All-Star Games
The Volleyball Championships were held on Sunday, March 24th at The University of Michigan-Dearborn Campus. The event was tournament style and consisted of over 350 PAL girls competing for the gold! "This is really a great event! I have two girls in the program and they couldnt be any happier doing what they love to do!" said Laveda McGlory, PAL mother.
The PAL Volleyball All-Star game was held on Saturday, March 23rd at Consortium Preparatory Academy in Detroit. The JV match began at noon followed by the Varsity match at 1:00pm. "The All-Star games are a congratulations to the girls who have really worked hard all year on the court and in the classroom," said Dana Cooper, PAL Volleyball Commissioner. After the games, awards for highest individual grade point average were distributed.
The event concluded with the Detroit PAL Staff vs Coaches game, which the staff outlasted the coaches in three sets taking the victory!
For more information on our Volleyball program please CLICK HERE!
Pictures and Videos from the All-Star and Championship games coming soon!
The New Detroit PAL!
We are very excited to announce our Board of Directors unanimously agreed to rename ouro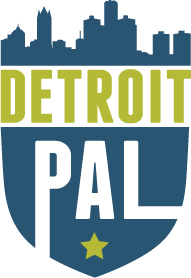 rganization Detroit PAL. They did so in order to honor the past while looking to the future. The brand recognition, vast reach, and longstanding history were all reasons for the change.
Think Detroit will live forever in the DNA of this organization. The involvement of Think Detroit has made us better than ever and we are grateful for their influence.
Along with the name, we have also adopted a new logo. Our new shield logo signifies a safe place for kids to play. It signifies passion, pride, caring and community. It is call to action and a sign of hope.
We will continue to improve in our efforts to build character in Detroit kids through sports. We are thrilled to have you on the team.
Thanks for your continuous support.
For more information please CLICK HERE